We are very proud of our competent ROTC Club Pros, Niels and Steven. Both are certified instructors with Tennis Canada. We are also delighted that both young men and their families have been long-term members of the club which should inspire some of our junior members!
---
Nous sommes très fiers de continuer à avoir nos instructeurs professionnels et compétents, Niels et Steven, au Club. Tous deux sont des instructeurs certifiés de Tennis Canada. Nous sommes également ravis que les jeunes hommes et leurs familles soient des membres de longue date du club, ce qui devrait inspirer certains de nos membres juniors! 
Niels Van Noord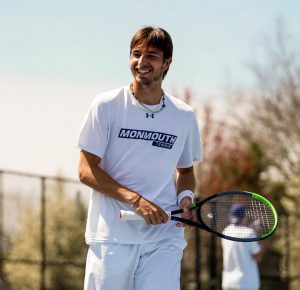 Niels joined the Royal Oak Tennis Club at 5 years old as a member of the Junior Program and won multiple awards for his performance, including the Men's Championship. He began competing at the provincial and national levels at the age of 10; at age 12, he was competing at an international level. He was invited to join the Tennis Quebec team where he remained for 8 years. He also joined the Tennis Canada team where he remained for 6 years. During this time, he traveled across the world and held a top 3 position in the country for years.
Niels is currently on an NCAA tennis scholarship at Monmouth University in New Jersey where he studies Business. He plays position 1 on his team and already holds some of the University's tennis records. He was named player of the week twice this past semester.
In 2016, Niels completed his tennis instructor course with Tennis Canada. He has been working as an instructor at Royal Oak for over 5 years.
Besides tennis, Niels has also competed as a soccer and water polo player.
Niels is excited to be back at the Royal Oak Tennis Club this summer – he looks forward to seeing seasoned members and meeting new ones!
---
Niels a rejoint le Royal Oak Tennis Club à l'âge de 5 ans en tant que membre du programme junior et a remporté plusieurs prix pour ses performances, y compris le championnat masculin. Il a commencé à concourir aux niveaux provincial et national à l'âge de 10 ans. Dès l'âge de 12 ans, il compétitionnne au niveau international. Il a été invité à se joindre à l'équipe de Tennis Québec où il y est demeuré pendant 8 ans. Il s'est également joint à l'équipe de Tennis Canada où il a fait partie durant 6 ans. Pendant ce temps, il a voyagé à travers le monde et a occupé une position dans le top 3 au Canada pendant des années.
Niels est actuellement boursier de tennis NCAA à l'Université Monmouth dans le New Jersey où il étudie l'administration des affaires. Il joue à la position 1 de son équipe et détient déjà certains des records de tennis de l'Université. Il a été nommé joueur de la semaine à deux reprises au cours du dernier semestre. En 2016, Niels a terminé son cours d'instructeur de tennis avec Tennis Canada. Il travaille comme instructeur à Royal Oak depuis plus de 5 ans. Outre le tennis, Niels a également concouru en tant que joueur de football et de water-polo. Niels est ravi d'être de retour au Royal Oak Tennis Club cet été – il a hâte de voir de rencontrer les membres qui y sont depuis longtemps et de rencontrer les nouveaux membres!
Steven McCartney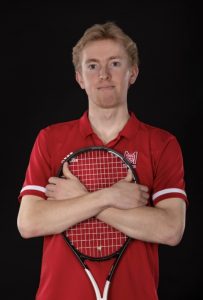 Steven first played tennis at age 5 and joined the Royal Oak Tennis Club a few years later in 2009. He has competed in provincial and national tournaments and spent most of his junior career within the top 30 players in Quebec.
Steven is currently studying Engineering at McGill University and is the captain of the McGill Tennis Team.
Steven has been coaching tennis since 2016 and enjoys working with kids and adults alike. Steven is always up to date about the tennis world and shares his enthusiasm with his students.
Off the court, Steven enjoys playing golf and chess. He is enjoying another fun Summer at the  Royal Oak Tennis Club!
---
Steven a joué au tennis pour la première fois à l'âge de 5 ans et a joint le Royal Oak Tennis Club quelques années plus tard en 2009. Il a participé à des tournois provinciaux et nationaux et a passé la majeure partie de sa carrière junior parmi les 30 meilleurs joueurs du Québec. Steven étudie actuellement l'ingénierie à l'Université McGill et est le capitaine de l'équipe de tennis de McGill. Steven est entraîneur de tennis depuis 2016 et aime travailler avec les enfants et les adultes. Steven est toujours à la fine pointe en matière de tennis et partage son enthousiasme avec ses étudiants.
À l'extérieur du terrain, Steven aime jouer au golf et aux échecs. Il profite d'un autre été très agréable au Royal Oak Tennis Club!
In Addition…En Plus…
In addition to having these two young men on the courts for JD instruction, private lessons and clinics and our social events, they offer:
racquet stringing
replacement of grips
purchase tennis balls from the pro shop for $5.00
Lessons
Senior and Intermediate
Full Bucket of Balls Upper courts (unless lower are very quiet)
1 person $50.00
2 people $60.00
3 people $70.00
4 people $80.00
Hitting Lesson
3 Balls only lower court
1 person $40.00
2 people $50.00
3 people $60.00
4 people $70.00
Junior Lessons
1 junior $40.00
2 Juniors $50.00
3 Juniors $60.00
4 Juniors $70.00
Contact
Niels
text: 514-622-2721
email: nielspetervannoord@gmail.com
Steven
text: 438-496-1172
email: steven.mccartney.0@gmail.com
---
---
En plus d'avoir ces deux jeunes hommes sur les courts pour l'enseignement du programme junior, des cours, des cliniques privées et nos événements sociaux, ces derniers offrent:
cordage de raquette
remplacement des poignées
achat des balles de tennis au pro shop pour 5,00 $
Leçons
Adulte et Intermédiaire
Seau plein de balles; courts 5-6
1 personne $50.00
2 personnes $60.00
3 personnes $70.00
4 personnes $80.00
Leçon de frappe
3 Balles seulement; courts 1-4
1 personne $40.00
2 personnes $50.00
3 personnes $60.00
4 personnes $70.00
Cours Junior
1 junior 40,00 $
2 Juniors 50,00 $
3 Juniors 60,00 $
4 Juniors 70,00 $
Contact
Niels 
text: 514-622-2721
email: nielspetervannoord@gmail.com
Steven
text: 438-496-1172
email: steven.mccartney.0@gmail.com
---