Jack is Back!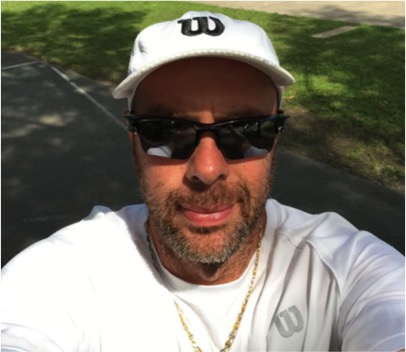 Jack Cinciripini, Tennis Canada level 3 coach is returning to the Royal Oak Tennis Club as Head Pro! We've missed you, Jack!
For those of you that don't know Jack, he grew up in the West Island of Montreal and has been teaching tennis full-time for over 20 years. From a young age he discovered that tennis was going to be more than just a game for him, his passion for the sport and personal goals as a player led him to an exciting and rewarding career.

Jack's responsibilities will include heading our Junior Development program, teaching and managing a team of instructors. He will be introducing an exciting new program just being launched in Canada, created so that students can evolve in an environment where they can Learn, Move and Measure themselves. Royal Oak will be one of the first Club's in Canada to introduce this program so stay tuned for more details.
Extremely knowledgeable when it comes to teaching kids, Jack also understands the importance of not only learning the basics of the game but also making it fun! He's able to recognize each child's special skills and nurture them.
For adult members a high level of one-on-one lessons will be available. Also, to enhance our member experience a range of clinics suitable for various levels of players, from beginners to more advanced players will be offered. These clinics will cover technique as well as strategy.
Interclub team members will benefit from Jack's superb coaching skills, not to mention his ability to make it fun.
Jack will also make some appearances at our Friday night barbecues and even play with some lucky members.
Make sure to say hi and introduce yourself to Jack. He's very accessible and open to help you with all aspects of your game!
Email: Jackcoachrotc@gmail.com
Jack Cinciripini, entraîneur de niveau 3 de Tennis Canada, revient au Club de Tennis Royal Oak en tant que Head Pro ! Tu nous as manqué, Jack !

Pour ceux d'entre vous qui ne connaissent pas Jack, il a grandi dans l'ouest de l'île de Montréal et enseigne le tennis à temps plein depuis plus de 20 ans. Dès son plus jeune âge, il a découvert que le tennis allait être plus qu'un simple jeu pour lui, sa passion pour le sport et ses objectifs personnels en tant que joueur l'ont conduit à une carrière passionnante et enrichissante.
Les responsabilités de Jack comprendront la direction de notre programme de développement junior, l'enseignement et la gestion d'une équipe d'instructeurs. Il présentera un nouveau programme passionnant qui vient d'être lancé au Canada, créé pour que les étudiants puissent évoluer dans un environnement où ils peuvent apprendre, bouger et se mesurer. Royal Oak sera l'un des premiers clubs au Canada à introduire ce programme, alors restez à l'écoute pour plus de détails.

Extrêmement bien informé lorsqu'il s'agit d'enseigner aux enfants, Jack comprend également l'importance non seulement d'apprendre les bases du jeu, mais aussi de le rendre amusant ! Il est capable de reconnaître les compétences particulières de chaque enfant et de les développer.

Pour les membres adultes, un haut niveau de leçons individuelles sera disponible. De plus, pour améliorer l'expérience de nos membres, une gamme de cliniques adaptées à différents niveaux de joueurs, des débutants aux joueurs plus avancés, sera offerte. Ces cliniques couvriront la technique ainsi que la stratégie.

Les membres de l'équipe Interclub bénéficieront des superbes compétences d'entraîneur de Jack, sans parler de sa capacité à rendre les choses amusantes.

Jack fera également quelques apparitions à nos barbecues du vendredi soir et jouera même avec quelques membres chanceux.

Assurez-vous de dire bonjour et de vous présenter à Jack. Il est très accessible et ouvert pour vous aider dans tous les aspects de votre jeu !
Courriel: Jackcoachrotc@gmail.com